On the morning of May 29, 2013, the opening ceremony of the Student Exchange Program with Baptist University, Hong Kong, was held at the lecture hall of the Administration Building of Shanghai University of Finance and Economics (SUFE). 2 professors and 31 students from School of Communication, Hong Kong Baptist University attended the opening ceremony. Huang Ying, Vice President of SUFE, Professor Yu Xu from Baptist University and Professor Liu Peng, Dean of School of Continuing Education (SCE), SUFE were also present at the opening ceremony.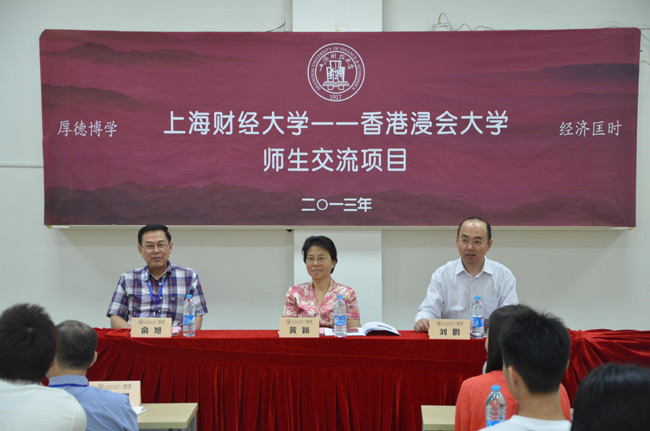 On behalf of SUFE, Vice President Huang Ying gave a warm welcome to the visiting professors and students. She then briefed on SUFE's 95 years of development and its wide participation by various means in social economic construction and development for the country in the field of training qualified personnel. She pointed out that the exchange activities organized by the Ministry of Education would provide "face to face and heart to heart" communication between teachers and students from these educational institutions on the basis of "equality, cooperation, mutual benefit and common development". She said that the Baptist University is a comprehensive university focusing on both teaching and research, and exchange with such an oldest institution of higher learning in Hong Kong would certainly promote friendship between teachers and students from the two schools. Finally, Vice President Huang Ying sincerely wished that everyone would have a good memory from having the program.

  Next, Professor Xu Yu from Baptist University delivered a warm speech, expressing his sincere thanks to SUFE for full preparations made for this program. He pointed out that Premier Li Ke qiang, when visiting Hong Kong, had encouraged active exchanges between teachers and students from Hong Kong and inland colleges and universities. So this program is of great significance, he emphasized, because students majoring in media would be able to learn more from inland colleges and universities by studying at SUFE and would be bound to broaden their knowledge and come to know the splendid Chinese culture. He hoped that in future teachers and students from SUFE would sit in the classrooms of Baptist University to study and get together with teachers and students there.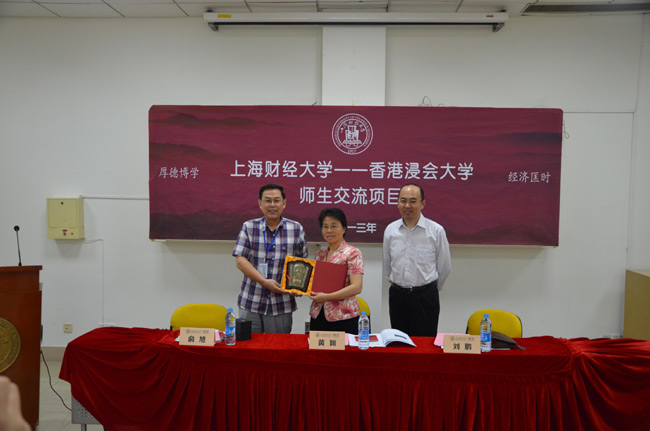 Finally, Li Yinzhou, a student from Baptist University made a speech, praising the two schools by giving a wonderful paraphrase to the school mottos, and indicating that he would make good use of this visit to study conscientiously together with his classmates and make great efforts to put into practice what has been learnt.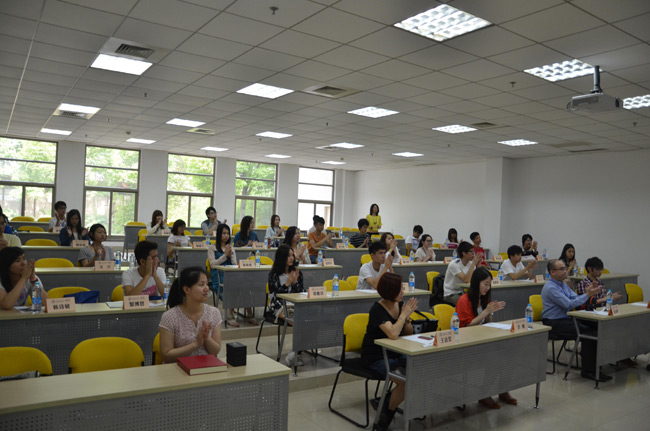 After the ceremony, group photos were taken, and a visit to the campus and the School History Museum made. In the following 6 days teachers and students will attend lectures, discuss with teachers and students majoring in Economic News Reporting from SUFE and have site visits to expresses in Shanghai.